proUSB Hotel Lock System
Product No.:2020513141017
Price:0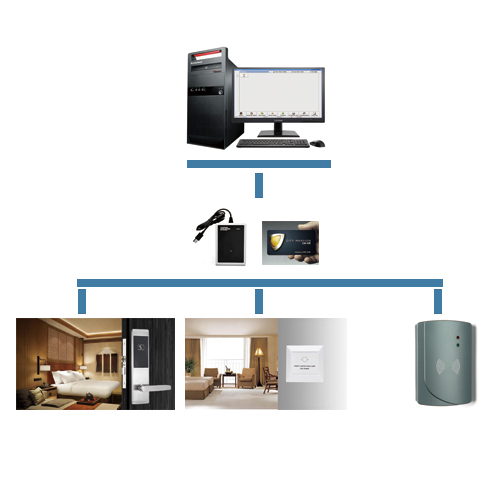 ProUSB Hotel Lock System is a kind of very simple electronic RFID IC card lock management system, face to small, economic and chain hotels, provide full sets of smart hotel lock devices.
A complete hotel lock system including:
1, Software
2, Encoder
3, Key Card
4, Hotel Guest Room Door Lock
5, Hotel Guest Room Key Card Switch
6, Access Control Reader (optional)
7, Elevator Reader (optional)

Software: proUSB software is very simple to operate, every functions and interfaces are uncomplicated and easy to understand. The mainly function of it is program and manage locks and rooms.
Encoder: proUSB encoder is a kind of card reader and writer, it pass software datas into cards, or read card datas and transfer to software.
Key Card: Electronic key, the bridge between software and locks.
Hotel Guest Room Door Lock: The performer of hotel lock system, can recognise card datas, to open lock or warning.
Hotel Guest Room Key Card Switch: Hotel guest room power manager, insert correct room key card to take power.
Access Control Reader: like door lock
Elevator Reader: Just allow guests to use elevator.



Features:
● proUSB refers to Professional USB. With advanced driverlessness USB technology, without installing Driver File, It can be easily and conveniently used when there is Windows System in the PC with USB function.
● Easy lock configuration. Setup for Room No. and Clock isn't needed to be operated. Only Read System Card (Authorized Card) three times over the Lock inductive area and use the corresponding Guest Card to open the door, Room No. and Clock is going to have accessed into Door Lock automatically.
● It is radical reform for proUSB System that having Lock Time kept pace with computer time theoretically in order to eliminate cumulative error (general speaking, the Time Difference between the lock and computer will be kept within 5 minutes).
●Individuated setup for the functions such as Alarm, Close Door Prompt, Do-Not-Disturb When Inside Lock etc.
● Software interface use brand new Windows-7 Style, and almost its every Setup step accompanies with indication. Any kinds of report forms can be exported as Excel files which is convenient for users' sorts of typeset requirement.
● Abundant Room Status is more obviously embodied in the aspects of Reservation and Hour-Rate Room as well as Group Reservation etc.
● Abundant System Indication function.
● One side of the Card Reader is connected by the custom-made wire with button to ensure the right connection. There is "Card-laying Place" on Card Reader for laying the card that is very obvious to find.