Hotel Lock 118E-S3
Product No.:202055231124
Color:Black/Silver
Material:Stainless Steel
Size:308*77*67mm
Open Way:Card+Mechanical Key
Application:Hotel/Motel/Apartment/Flat/School/Office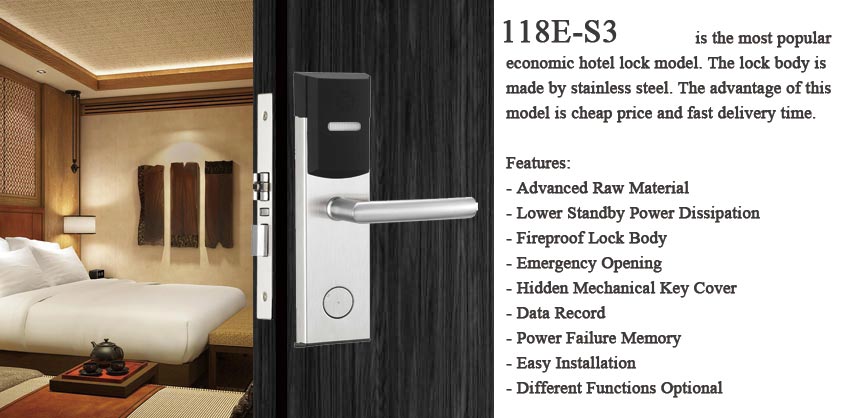 118E-S3-Y/B Introducing:
118E-S3 model is a kind of economic model for small or chain hotels, motels, aparments and flats, which is cheaper and easier to install.
The material of 118E-S3 panel is stainless steel, it is suitable for rooms near seaside or humid situation, not easy to get rust.
---
118E-S3 Features:

Lock Size:
242*77*69mm
Color Optional: Technology Silver / Gold / Black
Panel Material: Stainless Steel
Hotel Lock System: proUSB / TTLock / Tuya
Frequency: 125KHz / 13.56MHz
System Type: 125KHz T57 or 13.56MHz Mifare S50
PCB Type: Temic or M1
Key Card: T5577 Card / Mifare S50 Card
Default Mortise: 3# Short Mortise
Power Supply: DC 6V 4pcs AA Battery
Open Lock Ways: Read Keycard / Blutooth/ Mechanical Key
---
118E-S2 Hotel Lock And Mortise Size: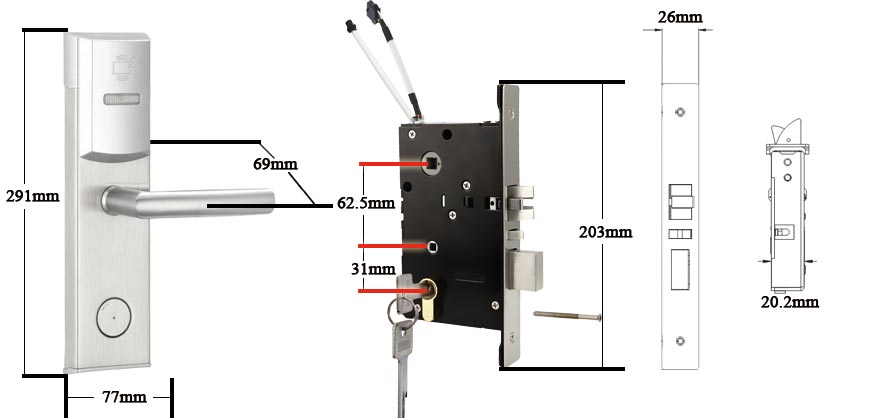 ---
Optional Mortise Size: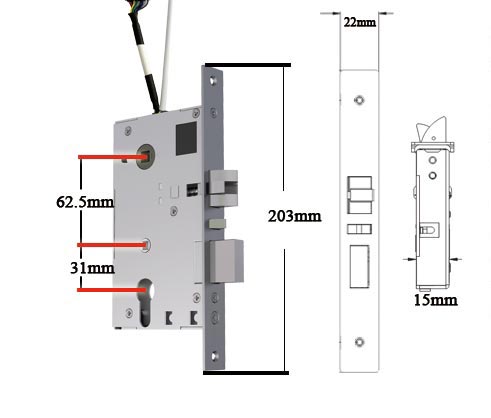 Mortise Introducing:
There are 2 mortises for optional: Mortise 3# and Mortise 4#
Mortise 3# is default mortise, widely used for wood doors.
Mortise 4# is for optional, for some thinner wood doors, or upgrade mechanical door locks. Europe market likes to use thinner mortise.
---
Cylinder:

---
Part List:
| | |
| --- | --- |
| Lock Front Panel | 1pc |
| Lock Back Panel | 1pc |
| Mortise(Default 3#) | 1pc |
| Cylinder | 1pc |
| Mechanical Keys | 2pcs |
| Door Holder | 1pc |


*Accessories can be provided for replacing broken parts.
---
Installation Guide: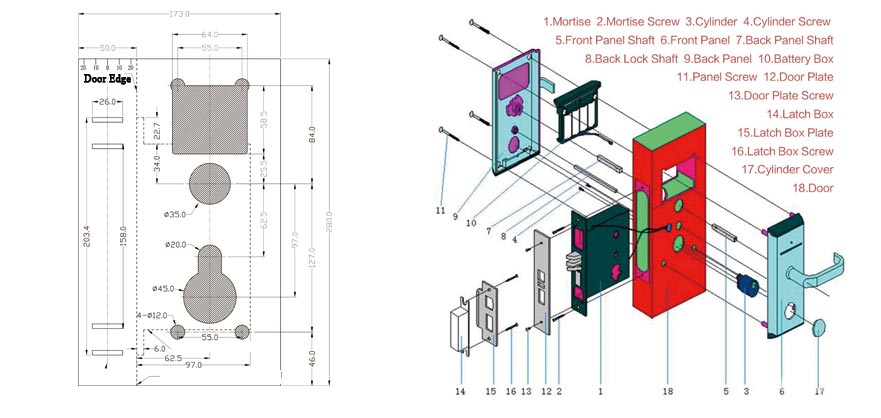 Click here to download installation guide document in PDF.
---
Function Introducing:
There are 5 function types of this lock model for your optional:
1, ProUSB Hotel Lock
2, M1-ID Independent Lock
3, ProUSB+Tuya APP Bluetooth Lock
4, Tuya APP Bluetooth Lock
5, TTLock APP Bluetooth Lock
---
Opening Direction:

---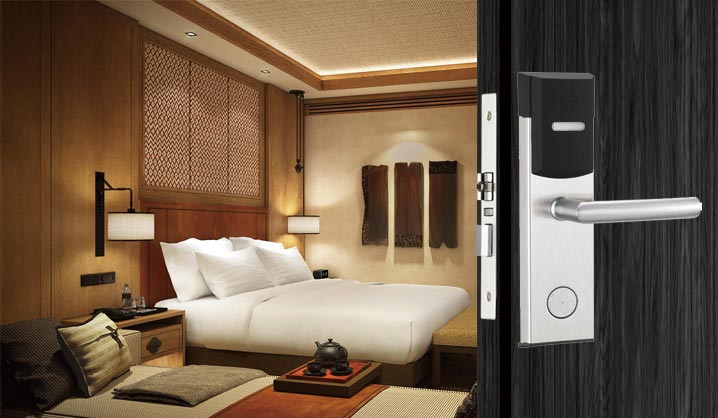 ---